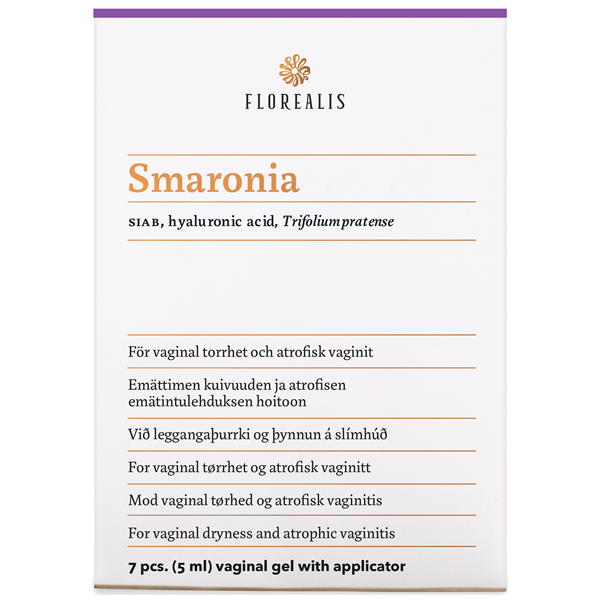 Smaronia
Smaronia is a unique treatment for vaginal dryness. Regular use increases the thickness of the vaginal mucosa, reduces discomfort during intercourses and other symptoms related to menopause. Smaronia contains herbal substances that improve and maintain vaginal health.
7 pcs. (5 ml) vaginal gel with applicator
Medical device, class IIa
Product description
Smaronia  has approved indication for the treatment of vaginal dryness, mucosal atrophy and other vaginal discomfort (such as itching, burning and pain during intercourse). Smaronia calms, lubricates, nourishes and moisturizes which together help improve and maintain the integrity of the mucosal membrane.
Smaronia preserves natural moisture of the vaginal mucosa by forming a protective barrier covering the affected area. The barrier protects the area from irritating substances and microbes. This is especially important for menopausal women as the incidence of vaginal infections increases during and after menopause. Smaronia also contains red clover that promotes natural hormonal balance in the vagina.
Smaronia has been tested in numerous clinical and non-clinical studies. The studies demonstrate that it is effective treatment for vaginal discomfort, including itching, dryness and soreness as well as it improves the health of the mucosal membranes. Smaronia is safe and well tolerated.
Useful Information
Wash hands before use. Intravaginal application, preferably used in supine or lying position before sleep. Remove the cap from the applicator, insert the content into the vagina and squeeze until the applicator is empty. Use one applicator daily for a minimum of 7 consecutive days, in more severe cased up to 21 days. To maintain the effect, use every three days or according to needs.
Active Ingredients and Functions
SIAB
is a

unique complex co

ntaining silver ions*bound with silicone dioxide microcrystals. It

creates antimicrobial protecting barrier that exerts moisturizing effect on the vaginal mucosa.
Hyaluronic acid supports the filmogenic action of the device as well as producing hydrating effect.
Red clover improves of skin elasticity, increases skin thickness and contributes hydrating effect.
*Studies show that silver ions in the SIAB complex do not absorb through the skin, neither healty skin nor broken. This product contains 0.007% micro silver ions.