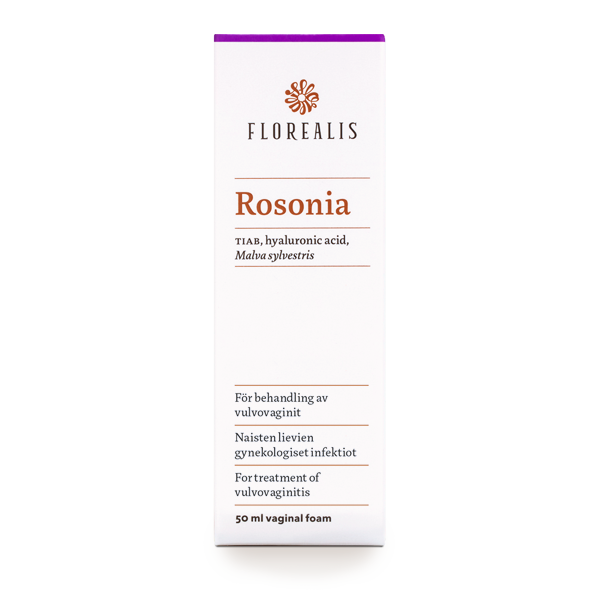 Rosonia
Rosonia foam is a unique treatment for discomfort and mild infections in the genital area. Reduces itching, burning and inflammation as well as improving tissue tone and elasticity.
Rosonia is a natural and hormone free product.
Available in Iceland and in Sweden
50 ml foam, bottle
Medical device, class IIb
Product description
Rosonia foam has a approved indication for the treatment for discomfort, mild infections, inflammation and wounds on the female genital area. The foam can be used preventively to build up and maintain healthy skin and to treat mild infections. In severe cases it can be used in combination with antimicrobial medicine against bacterial, fungal and viral infections.
Rosonia is a treatment foam that is exceptionally soft and soothing for the sensitive genital. It gives a cooling sensation and calms the skin. It forms a film barrier that covers the affected area and protects it from microbes and irritation while also preserving the skins natural moisture. Rosonia creates ideal conditions for the skin to heal and regenerate.
Rosonia has been tested in numerous clinical and non-clinical studies. The studies demonstrate that it significantly reduces inflammation, burning, itching as well as fissures and excoriations on the genital area. The treatment is safe and well tolerated.
Useful Information
Wash both hands and the genital area before use. Shake the bottle well before use and keep it in an upright position. Apply a thin layer of foam on the affected part and leave to dry. Repeat application once or several times a day for up to 10 days or until complete healing.
Side effects: mild burning sensation at the beginning of treatment which disappears with regular use (frequency<10%). There are no known interactions with medicines or other products.
Active Ingredients and Functions
TIAB
is a unique complex co

ntaining silver ions*bound with titanium dioxide microcrystals. It

creates protective barrier that covers the affected area. The barrier provides ideal conditions for the mucosa to heal and regenerate.
Malva sylvestris herbal extract reduces inflammation, improves tissue tone and elasticity as well as giving soothing, refreshing and softening effect to the skin.
Hyaluronic acid gives moisture as well as supporting the formation of the protective barrier.
*Studies show that silver ions in the TIAB complex do not absorb through the skin, neither healty skin nor broken. This product contains 0.005% micro silver ions.