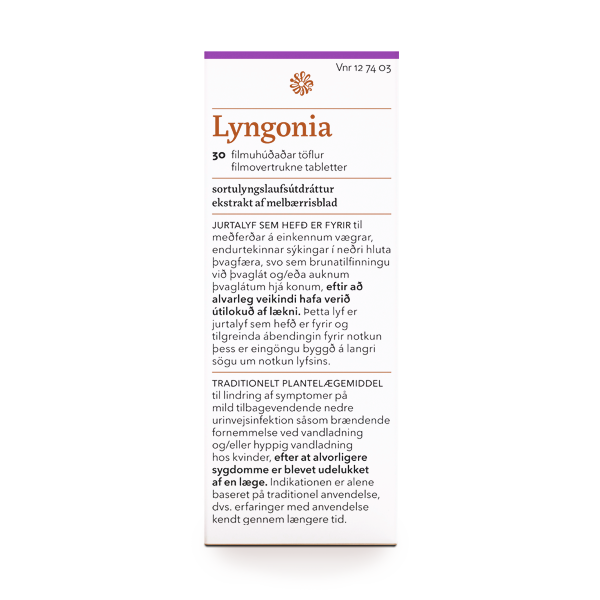 Lyngonia
Lyngonia™ (bearberry extract) is a non-antibiotic alternative for women against mild infections of the lower urinary tract.
60 film-coated tablets, blister pack
Traditional herbal medicine
Product description
Lyngonia™ is an over-the-counter product indicated for the relief of symptoms of mild recurrent lower urinary tract infections such as burning sensation during urination and/or frequent urination in women, after serious conditions have been excluded by a medical doctor.
Lyngonia™ is considered a stable formulation containing higher strength of active than other competitive products, allowing higher daily dose.
Lyngonia™ is a traditional herbal medicinal product for use in the specified indication exclusively based upon long-standing use.
Useful Information
The recommended dose in women (adults and older) is:
2 tablets 2–4 times daily, taken with a glass of water. Do not use Lyngonia if you have any kidney disorder. Not recommended for use in pregnant or nursing women, men, and children and adolescents under 18 years.
Do not use for more than 1 week. Consult a doctor if the symptoms persist for more than 4  days or worsen during the use of Lyngonia.
Active Ingredients and Functions
One tablet contains 361–509 mg of bearberry (Arctostaphylos uva–ursi) leaf extract, corresponding to 105 mg of hydroquinone derivatives calculated as anhydrous arbutin.