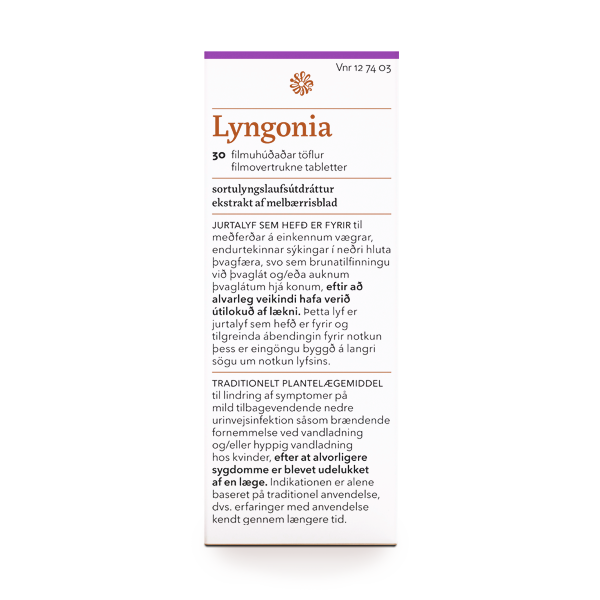 Lyngonia
Lyngonia is a non-antibiotic alternative for women against the symptoms of mild, recurrent urinary tract infections such as burning sensation during urination and frequent need to urinate. Treatment with Lyngonia should start as soon as first symptoms appear for best results.
Lyngonia is sold over the counter in pharmacies. Available in Iceland and Sweden.
60 film-coated tablets, blister pack
Traditional herbal medicine
Product description
Lyngonia contains a standardized bearberry extract (Arctostaphylos uva-ursi). Bearberry leaves are a traditional herbal medicine and have a long history of safe and effective use against mild urinary tract infections. About 40% of women get urinary tract infections in their lifetime, 25% thereof have recurring infections. Antibiotic free treatment options, such as Lyngonia, are important to help overcome mild infections and hence reduce the use of antibiotics. Reducing the use of antibiotics is central to limiting the development of antibiotic resistance.
Lyngonia is standardized for active substances in the extract to ensure maximum effect and a correct dose in each tablet. Lyngonia is considered a stable formulation and contains higher strength of active substances than other options. Lyngonia is well tolerated and has few known side effects.
Useful Information
The recommended dose for adult women:
Two tablets 2 to 4 times daily for 4 – 7 days to relief symptoms of mild, recurring lower urinary tract infections after serious conditions have been excluded by a medical doctor. Do not use for more than 1 week.
If the symptoms persist for more than 4 days or worsen during the use of this medicine, consult a doctor or other health care professional. Do not use if you have a kidney disease. Contains lactose and maltodextrin. Do not use Lyngonia during pregnancy and lactation. The safety of this medicine during pregnancy and lactation has not been established. Lyngonia is not for men, adolescents or children under the age of 18 without a medical advice. The product is a traditional herbal medicinal product for use in the specified indication exclusively based upon long-standing use.
Read the instructions and the enclosed leaflet carefully before using this product. Seek medical advice for more information about risk and side effects.
Active Ingredients and Functions
One tablet contains 361–509 mg of bearberry (Arctostaphylos uva–ursi) leaf extract, corresponding to 105 mg of hydroquinone derivatives calculated as anhydrous arbutin.