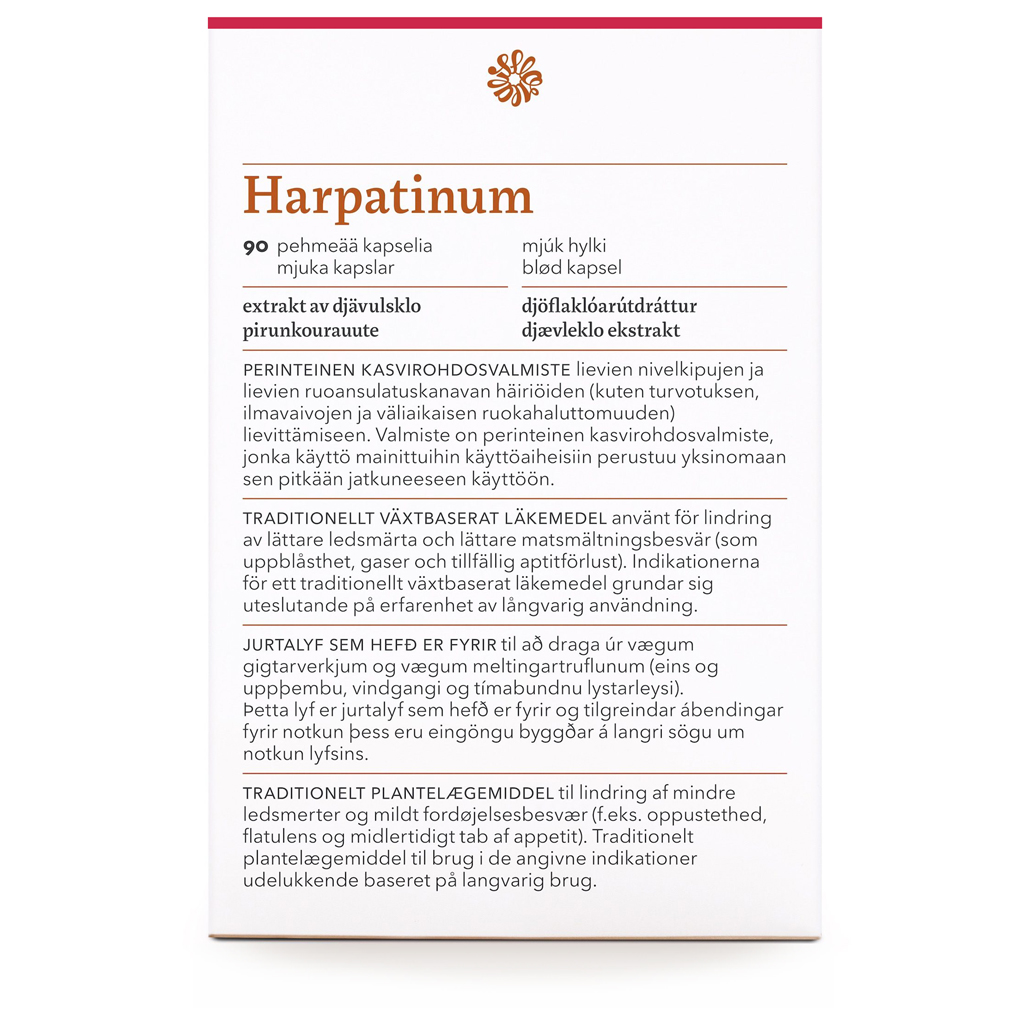 Harpatinum
Harpatinum™ is an over-the-counter herbal medicine indicated for the relief of minor joint pain and mild digestive disorders such as bloating, flatulence, and temporary loss of appetite.
90 soft capsules
Traditional herbal medicine
Product description
Harpatinum™ contains extract of devil´s claw root which is very well known medicinal herb and is documented in a number of pharmacopeias. Clinical studies show the plant to be effective e.g. in the treatment of pain related to osteoarthritis. The plant extract also contains so-called bitters which are known to relief digestive disorders like bloating, flatulence as well as being a benefit in a temporary loss of appetite.
Harpatinum™ is approved as a traditional herbal medicinal product in Scandinavia. Devil´s claw products are generally well tolerated with only few mild adverse events reported. The size and shape of the Harpatinum soft capsule makes it easy to swallow.
Harpatinum™ is a traditional herbal medicinal product for use in the specified indications exclusively based upon long-standing use. The product contains a standardized extract which is extremely important to secure that the user gets the correct dose of the product, which ensures both efficacy and safety of the  product.
Useful Information
The recommended dose in adults is: 2 capsules twice daily.
Do not use Harpatinum if you are allergic to peanut or soya, or suffer from ulcers in your stomach or intestines. If you have gallstones, or joint pain with swelling, redness or fever, consult a doctor before using Harpatinum.
Consult a doctor if you experience side effects, if symptoms worsen, or symptoms persist after 2 weeks in digestive disorders or 4 weeks in joint pain.
Not recommended for children under 18 years of age or pregnant/nursing women. Keep out of sight and reach of children and do not store above 30°C.  Before using this product, read carefully the information in the information leaflet and on the outer packaging. If you need further information about risks and adverse reactions contact a physician or a pharmacist. For further information about this product, see www.serlyfjaskra.is  www.fass.se www.produktresume.dk www.legemiddelsok.no  www.fimea.fi
Active Ingredients and Functions
Each capsule contains 225 mg of extract (as dry extract) from devil´s claw root (Harpagophytum procumbens/Harpagophytum zeyheri, equivalent to 990-1125 mg of devil's claw root.